1. Spritz your face with makeup setting spray before and after applying makeup to keep it from melting off.
You can try Urban Decay's De-Slick Makeup Setting Spray ($30), to help your makeup grab onto your skin.
2. Rub face primer onto your forehead and nose to keep it from getting shiny throughout the day.
In a pinch, you can pick up Monistat anti-chafing gel ($6)—beauty bloggers love how it mattifies the skin and helps your makeup last longer.
3. And dab primer on your lids before applying any eyeshadow to keep it from looking creasy.
If you can, opt for powder-based shadows in natural tones instead of cream ones, especially if you have oily lids.
4. In a pinch, use milk of magnesia as a primer for oil-free, matte skin.
If you suffer from oily skin, milk of magnesia might actually be your new BFF. Put it on after your moisturizer before your daily makeup routine for shine-free skin.
5. Opt for a brow pencil that contains wax so that it won't rub off.
Wax-based brow products—like this one from NYX ($9)— stay on through moisture.
6. To make your eyes look bigger without layering on eyeshadow, apply a nude eye pencil to your bottom waterline.
In case you're all like "WTF is a waterline?", it's the inner rim of your eyelid. To get the look in this video, try Benefit's Eye Bright ($20).
7. If you use liquid foundation, apply it in criss-cross strokes to keep it from looking streaky when you sweat.
Also, start applying concealer from the center of your face and work your way out.
8. And dab (don't drag) a little powder foundation on top of the liquid foundation to set it.
This will keep it from sweating off.
9. Blot your face with an oil absorbing sheet after using a BB cream.
BB creams tend to leave the skin looking a little shiny. To get rid of shine without applying powder (in case you're trying to keep your skin super light), gently blot the skin with a sheet. Get them from Amazon for $5.
10. And you should keep oil blotting sheets on hand to dab away oil throughout the day.
It will keep your face looking fresh.
11. Try a creamy lip stain like Too Faced Melted Liquified Long Wear Lipstick ($21).
12. Or forgo lipstick altogether and enhance your lips by applying a balm and dabbing a little highlighter at the center of your top lip.
It's also called the "Cupid's bow," and you'll need a pinhead-sized amount of concealer for this part. This will create a goddess-like glow that emanates from the center of your lips.
13. If you want eyeliner that stays put, use a 24-hour waterproof GEL eyeliner.
It won't smudge as easily as a pencil and you don't have to worry about the raccoon eyes you might get with using eyeshadow. Try the 24-hour Sephora brand liner for $5.
14. Ditch your powder blush for tinted creme blush.
It looks more natural than powder blush and blends easily into sun-kissed skin.
15. Or use a liquid blush like Rimmel Stay Blushed Liquid Cheek Tint ($3).
Rimmel's liquid blush requires a little more blending than usual, but that's only because the formula is rich and long-lasting. It's also a good drug store alternative for the Holy Grail of check stains, Benefit's Benetint ($30).
16. To prevent under-eye concealer from getting creasy when you sweat, set it with Ben Nye Bella Luxury Powder.
This can be a life-saver for oily skin.
17. Get the dewy look with minimal makeup by just adding a bit of highlighter to your foundation.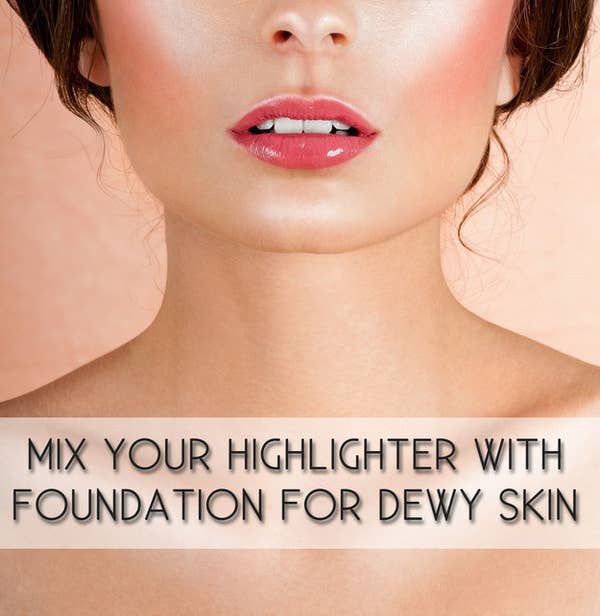 18. Get a SUPER waterproof mascara like Shiseido's Majolica Majorca Lash Expander Edge Meister ($17).
Another option: Maybelline Great Lash Waterproof Mascara ($3.99).
ADVERTISEMENT
19. To make any lipstick look matte and last longer, dab translucent or skin-colored powder on top of the lipstick.
This helps to set the lipstick and prevent it from smudging.
20. Or just blot powder directly onto your lips with a brush.
This will keep lips from feeling tacky in the summer sun.
21. And, since less is more when it comes to summer makeup, use the most pigmented stuff you have (like anything from Make Up For Ever).
Even though Make Up For Ever's HD BLUSH Second Skin Cream Blush ($26) doesn't claim to be waterproof, it has been proven to last a very long time.